JAM CRUISE #CURRYjam RECIPES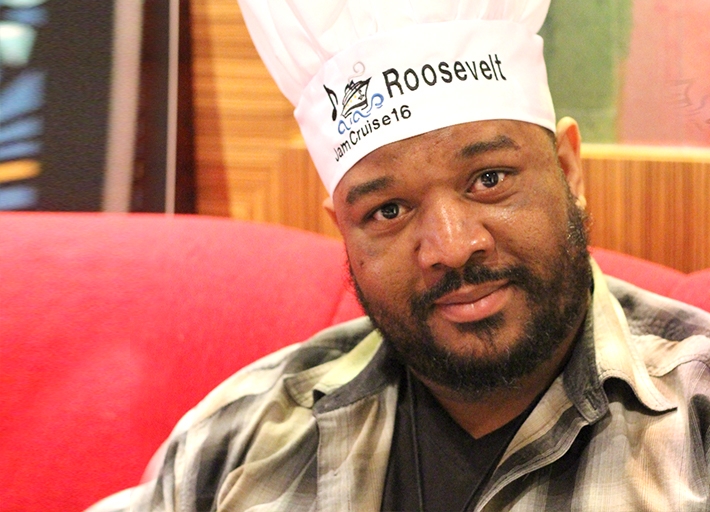 ROOSEVELT COLLIER's
Mango Chili Wings
Tandoori Wings* in a Sweet and Spicy Mango Sauce
*requires up to 24 hours to marinate the chicken
INGREDIENTS
WINGS
3 pounds chicken wings
2 tsp salt
⅛ cup lemon juice
1 ¼ cups plain yogurt
1 tsp ginger paste
1 tsp garlic paste
3 tsp Tandoori Masala (store bought)
1 tsp cayenne pepper
2 tsp paprika
2 tbsp Canola oil
INGREDIENTS
MANGO CHILI SAUCE
1 cup Major Grey's Mango chutney
¼ cup Sriracha hot sauce or to your heat level
2 tbsp lemon juice
WINGS
STEP 1
Combine the yogurt, lemon juice, ginger, garlic, oil, and all the dry spices. Add the chicken and coat evenly. Marinate the chicken for 6-24 hours, the longer the better.
STEP 2
Bake in oven (use Convection setting is available) on 350 degrees until chicken is almost cooked (time varies due to wing size but generally 30-40 minutes).
STEP 3
To finish put the oven on 500 degrees convection and cook the wings till they get a char color. You can also fry the wings after the initial cooking time. You will fry them on 350 degrees till you see a little char.
The last way to cook them is on the outdoor grill. That you can do from raw on 350 degrees till you see some burnt ends. Once the wings are fully cooked, toss them with the sauce and garnish with scallions.
MANGO CHILI WING SAUCE
STEP 1
Cook all the above ingredients on medium heat until all the ingredients are incorporated.
STEP 2
Use a blender to smooth out the sauce.
STEP 3
Put wings and sauce in a bowl, toss to coat and serve.